About Spectrum Grove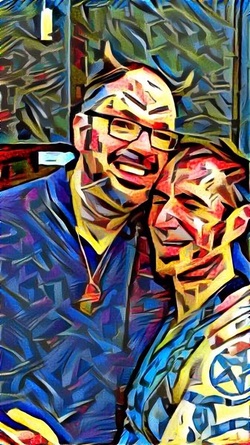 Spectrum Grove welcomes individuals who are keen to manage their energy and live powerfully through a variety of mystical, psychological, and common-sense modalities.

We hold covenant with deities of antiquity and modern times. We develop ourselves physically and metaphysically with the goal of increased growth, diversity, and choice.



---
Spectrum Grove places emphasis on personal development and incorporates modalities such as traditional psychological therapy and modern western medicine, as well as hypnosis, neuro-linguistic programming (NLP), Holistic Peer Counseling (HPC), Landmark Forum, and Mindfulness.

​Spectrum Grove was formed at Litha, 2016 after hiving off from the Sylvan Grove, by HP Blackcat and HP Birch.
---
The Sylvan Tradition
The Sylvan Tradition is a magical approach to life rooted in direct experience. The tradition asserts the existence of non-corporeal entities, spirits, and energies as well as one's inherent ability to influence their life and surroundings through folk-custom techniques commonly referred to as witchcraft.
Sylvan means of the forest. Therefore, we look to the forest as a role model for balanced and thriving systems. As the forest thrives, diversity increases. So across the spectrum of possibility, Spectrum Grove seeks to enhance diversity of philosophy, concepts, and interactions.
The Sylvan Tradition inherits practice from modern Wicca, Druidry, and the Feri Tradition of witchcraft. Members are typically versed in classic divinatory practices such as astrology, tarot, and palmistry. In addition, our tradition places a high value on personal development so members will be versed in common psychology and emotional intelligence techniques.
The Sylvan Tradition stands in contrast to many neo-pagan practices. We have no set book of shadows or holy book of dogma. Rituals are created by members fresh each time with words and actions often being extemporaneous. Members are encouraged to develop their own perspectives on their ritual experiences and may have different beliefs. This is balanced by members suspension of disbelief, allowing each to form their own viewpoint. Many Sylvan rituals can be considered applied witchcraft as they are designed to bring about some change in the participants and/or their surroundings.
The Sylvan Tradition practice consists of grove meetings on each full moon, dark moon, and the eight sabbats of neo-paganism. Each meeting includes a ritual, whose format typically includes a practice of "casting a circle" with an acknowledgement of the symbolic classic elements of air, fire, water, and earth, although Sylvan Tradition does not ascribe significance to cardinal directions.
Rituals include the acknowledgement and welcome of deity. In the Sylvan tradition we do not ward or guard our ritual circles as we view all of earth as sacred and that nothing misaligned with our purposes can exist among the energies we evoke.
The Sylvan Tradition places particular emphasis on acknowledgment of what we call the fey. The fey include any reference to folkloric creatures called fairy as well as beings such as elementals and devas.
The Sylvan Tradition began in the 1970s in Northern California.
"When the symbol (of any given religion) is made into a fetish and an instrument of proving the superiority of one's religion over others, it is fit only to be discarded."- Gandhi